Reliable Skip Bin Hire Auckland
Your 3 step instant quote
   Free No-Obligation Quote – Call the Bins R Us team today for a free, no-obligation quote!
   Save Fuel! We Deliver to You – We deliver any bin hire Auckland wide and organise pickup.
   We Pay the Tip Fee – We pay the disposal fee so you can have peace of mind.
   Our Four-Day Skip Rental – Can't do everything in a day? We allow you to keep our bins for up to four days!
     Experienced drivers ensure your skip arrives on time, every time.
    Available 24/7 to help you get the right skip for your project.
    If it can be done it will be done. If its impossible it may take a little longer.
Delivery Monday TO Saturday
General Waste, clean hard fill & Garden Waste
Asbestos or Methamphetamine bin disposal available
Call us on 0800 150 150 for Cheap Skip Bin Hire Auckland
What size bin do I need?
Please refer to the bin pages to help determine what size and specification you require. Our Bins
What size bins do you have?
We have a range of bin and skip sizes to suit all types of jobs from a 3 cubic metre mini skip through to a 9 cubic metre high sided jumbo bin.
Our 3 and 4.5 cubic metre hard fill bins are purpose built to take clean hard-fill such as soil, concrete, bricks, stone, tiles, clay, and rocks. These smaller bins are also ideal for all purpose clean ups.
For those larger clean ups we offer 6 and 9 cubic metre bins. These bins are suitable for all types of household and commercial waste (apart from hard fill).
How long can I have the bin?
Our standard term of hire is up to 4 days; however please let us know if you would like to arrange a bin for more than 4 days. If for any reason you require the bin removed prior to the four days we can accommodate this.
What width of drive do I require in order for trucks to access my property?
We require a minimum width of 2.8 metres and a height of 4-4.5 metres.
How high can I fill the bin?
LTSA rules require that bins must be level with the top of the bin. Please ensure to comply with this requirement, as for health and safety reasons our drivers are not able to collect bins that are loaded over height or insecurely loaded.
What forms of payment do you accept and who do I pay?
Payment is made prior to delivery of the bin by visa and master card credit cards and will incur a 3% card fee.
What is not allowed to be placed in the bin?
We are not able to accept any form of hazardous waste, for example chemicals, waste oil, paint, tyres, fibrolite (asbestos), bulk food waste, flammables or bulk glass. Please ring us at the office for clarification.
Do you have excess weight charges on your bins?
Yes we do on general waste bins. We charge $200.00 incl GST per tonne over the limit. This is pro rata.
Excess weight limits apply if the bin or skip is overloaded, or exceeds our stipulated weight for the size of bin. Please check our terms of trade for weight limits and current overdue charges.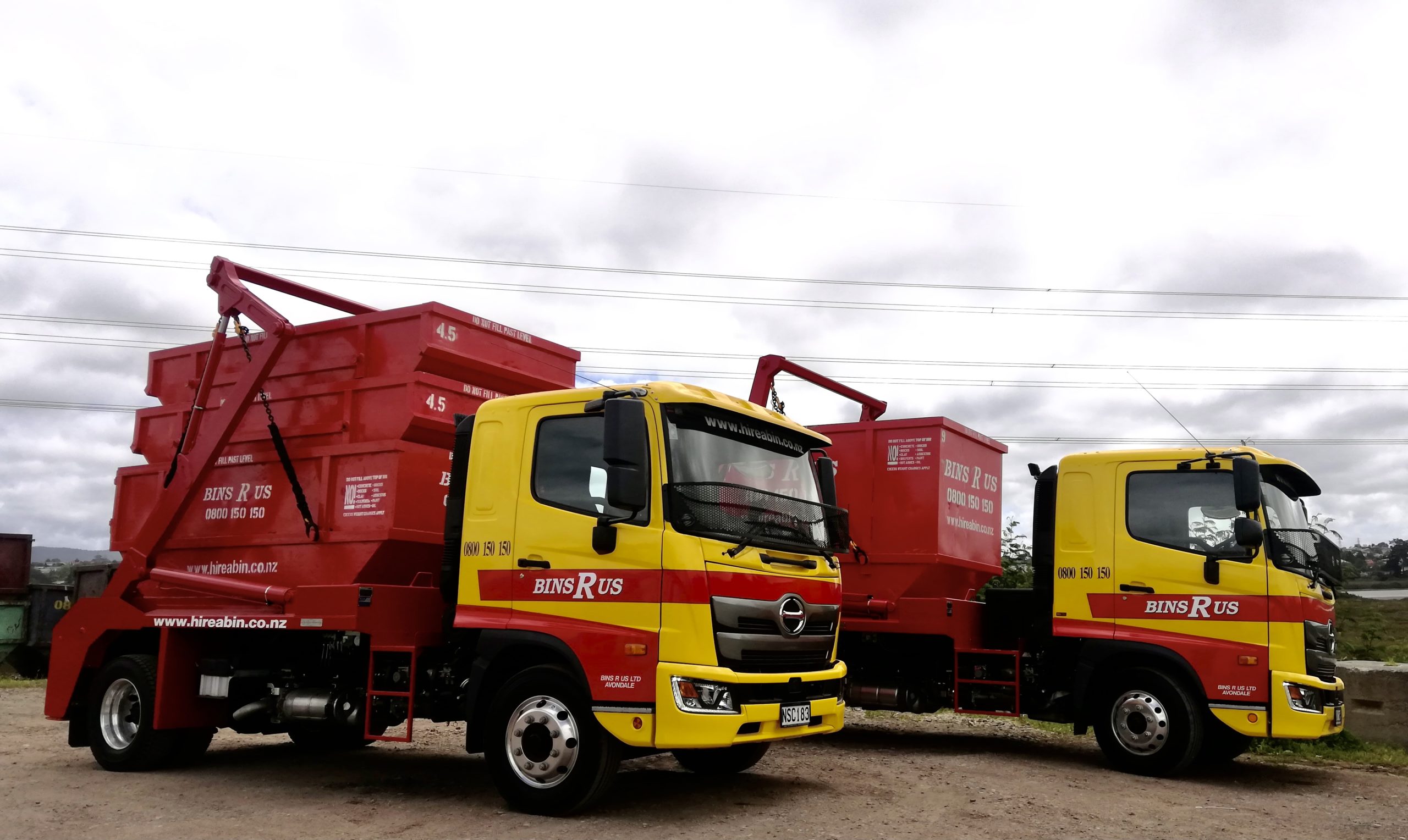 Rubbish Bin Hire & Rubbish Skip Hire
We offer a full service, this includes skip bin delivery and drop-off, pick-up and disposal of waste. Skip bin waste is typically general waste (household rubbish), hard-fill (clay, bricks, concrete) or green waste (tree clippings etc).
We take a proactive approach when it comes to disposal of waste. We engage transfer stations where disposed items are sorted and either reused or recycled, composting stations for green waste and landfill stations for remaining waste. We're continuously working with our industry partners and pushing the boundaries when it comes to sustainable best practice within the industry.
Whether it's general rubbish or hardfill rubbish, the team at Bins R Us can recommend the best rubbish bin hire Auckland has to offer.
For general rubbish, our rubbish skip hire service is the simplest and most efficient method for disposing of rubbish from your home or office. With a selection of skips ranging from small 3 metre bins all the way up to 12 metre bins – we can provide the rubbish removal solution you need, no matter the size of the job!
For hardfill rubbish, which covers materials such as concrete, bricks, tiles, and soil – we at Bins R Us offer two sizes: 3 metre hardfill bins and 4.5 metre hardfill bins. Our hardfill bins are long low bins making it easy to load with a wheelbarrow.
"Excellent customer service via phone & truck driver. Delivered on time, very honest & bargain pricing! Will happily use this company again for future skip bin needs."
"Great service and awesome company to deal with! I will definitely be getting my bins again from them"
"All went well with both drop off and pick up. Phoned customer services to have the date moved and they were very helpful in doing this. Thank you Bins R Us, would certainly use again."
Coral Marshall